Today we are diving into one specific funded trader program,

FTMO

.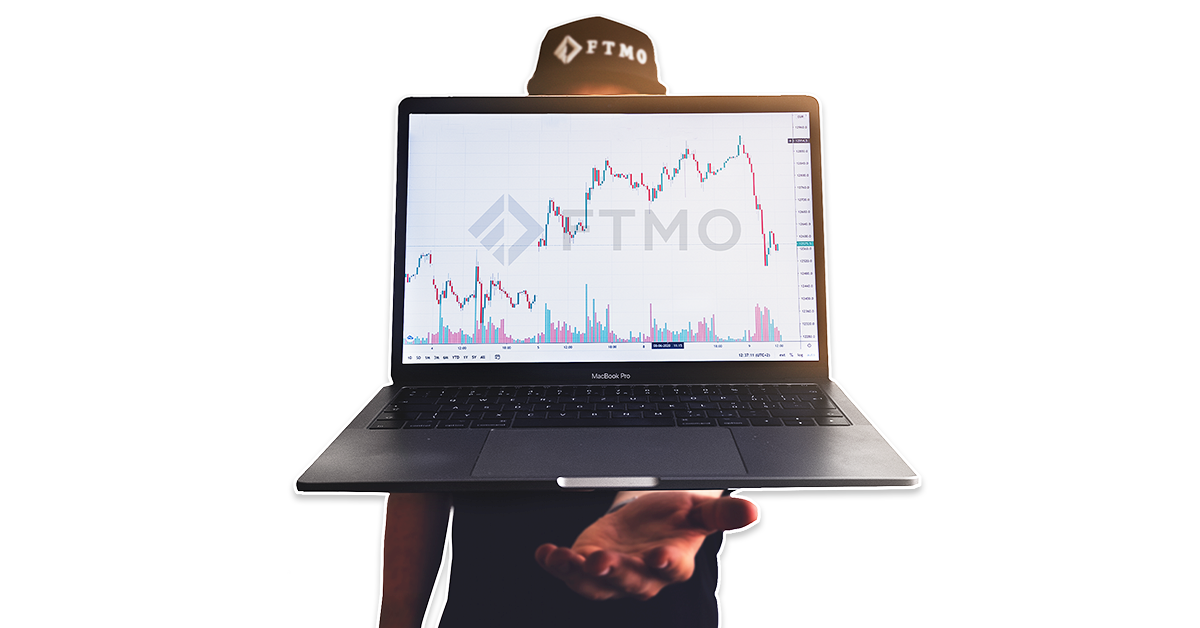 Funded trader programs such as FTMO, Funding Talent, Maverick, etc. are becoming more and more popular as newer traders are finding opportunities to trade with larger sized accounts, which they wouldn't otherwise have.
Wait, what?
Ok, let me explain. These funded trader programs are a unique solution for traders who lack significant capital to trade with. As a result, traders are able to see larger returns per trade. For example, if a trader is aiming to make 3% a day:
3% profit of a $1,000 account = $30
3% of a $25K account = $750
3% of a $100,000K account = $3,000
It's not as simple as receiving $100K from a funded trader program and hitting the ground running.
There are steps that need to be completed before the company gives you the capital, and there are rules that need to be followed even after the trader is trading independently.
Below is a quick look at how FTMO works.
This infographic is a great snapshot into FTMO, but let's delve into the details.
How Does Funded Program FTMO Work?
It begins with a challenge.
As mentioned above, the FTMO Challenge is the first set of the evaluation process. Traders must succeed in the challenge in order to move forward. The Challenge is an opportunity to prove your trading skills and discipline.
Next is the Verification.
This is the second and last step. The Verification is like another Challenge, but with a longer trading period and a smaller profit target.
Finally, once the Challenge and Verification have been passed, you are now an FTMO Trader! However, there are still rules to follow or you risk losing your account.
FTMO Trader Rules
Now that you have passed The Challenge and Verification, it's time to actively trade as an FTMO Trader. It's very exciting to get to this stage, but incredibly important to keep your cool and follow the rules implemented by FTMO, which insure your success and prove that you can continue to be consistent.
*Please note that the images above are based on wanting to obtain a $10,000 account. Please see the images below that reflect a $100,000 account. Head here to see the different requirements for $10,000, $25,000, $50,000 and $100,000. You can also compare and contrast different currencies available.
For a $100K account on FTMO:
As you can see, the numbers are different and reflect the account size that you are challenging for.
Funded Trader Program FTMO FAQs:
Who Can Join FTMO?
FTMO accepts traders from all around the world. If you know how to trade well, that is all they care about.
Why Should I Join Funded Trader Program FTMO and Not Trade With My Own Money?

It can be difficult to make a living as a trader. With the FTMO Prop Trading firm, you can manage their capital of up to $300,000.
If you generate profits on the FTMO Account, their funding partner company will keep 30% as the profit split, and you will be rewarded with 70% of achieved profits. (Please keep in mind this is the best-case scenario).
Another bonus to joining FTMO is that they provide trading psychology. The performance of their traders directly reflects the performance of the company. Therefore, it is in their interest that their traders trade under the best conditions. FTMO Traders may periodically consult with their Trading Psychologist free of charge.
Can I Lose My Own Money Trading with FTMO?
Another benefit of trading for FTMO is that you won't be responsible for any losses, if any. As a result, all losses on the FTMO Account are covered by their funding partner. You don't need to fear losing if you literally have nothing to lose.
If I violate the rules in my FTMO Trader Account, do I lose it?
In a nutshell, yes. You can always try again from scratch and order a brand new FTMO Challenge if you wish to become an FTMO Trader.
There is, however, one exception. If you manage NOT to violate any of the Trading Objectives (regardless of whether that is the FTMO Challenge or Verification) and your final account profit being positive at the end of the trading duration, with all positions being closed, they will give you a new FTMO Challenge free of charge.
There is an understanding that sometimes the market conditions are not in the trader's favor and they appreciate good trading and the ability to manage risk properly.
What Capital will I Trade as an FTMO Funded Trader?
The same amount of capital that you traded in the FTMO Challenge. Trading with $100,000 in the FTMO Challenge would mean you also manage $100,000 in the funded FTMO Account. As a result, you are prepared for what is to come.
If you wish to trade with more capital, you can simply apply for another FTMO Challenge and trade more accounts. This could be a great way to make more profit, but could also get confusing if you are handling multiple accounts.
For more FTMO FAQs, click here to go through them all.
They answer commonly asked questions regarding:
New FTMO members
The evaluation process
Rules
The in's and outs of the FTMO account
Available platforms
Orders & billing
ASFX and FTMO
ASFX has four coaches and many traders in their VIP chat. Two of the coaches, Jase Brand and Ryan Gura participate in Funded Trader programs.
Jase, in particular, trades with FTMO. He expressed his opinion on it in this blog post here.
Ryan trades on Funding Talent, which he discusses in the same blog.
In conclusion, this specific Trader Funded Trader program FTMO, can be an incredible opportunity with low risk for new traders who are beginning with little capital and small accounts.
Good luck and happy trading!
Stay Connected With The ASFX Weekly Newsletter — https://asfx.biz/subscribe/
More from ASFX…
When and Why Austin Uses A Stop Loss Today, we are going to analyze one…